User Access API Services
Create innovative and user friendly solutions with Telia Norway APIs


Get access to Telia Norway´s 2+ million customers. Telia Norway has a proven, robust platform processing several hundred million transactions yearly.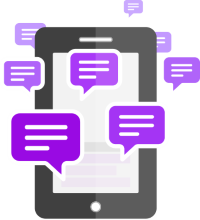 CPA Bulk Messaging offers the Customer an API to send and receive SMS messages to end users in the Telia mobile network.
Some of the benefits of SMS communication are:
SMS is the messaging service with the highest number of users – you may reach all Norwegian mobile users
messages are opened and read - SMS has the highest open / read ratio of all messaging services
SMS is the preferred messaging service for important messages
An increasing number of businesses use Bulk Messaging, an efficient tool for communication. The yearly growth rate of Bulk SMS messages since 2013 is 25 % (NKOM statistics).
Common Bulk Messaging use areas:
marketing / customer clubs
CRM dialogue
notifications / reminders
one time passwords
web site login
order channels
Fees
Fixed fees
| | First access number | Succeeding access number |
| --- | --- | --- |
| Start-up fee | NOK 7 500 | NOK 2 000 |
| Monthly fee | NOK 2 500 | NOK 1 000 |
Configuration and change of Customer Account
Per change: 1 000 NOK
Traffic fee SMS
Customer is charged for all SMS message segments successfully delivered to Telia messaging centres. Messages sent from an End User's mobile phone to Customer's Access Number is charged the End User according to the applicable prices of the End User's subscription.
| Terminating network | NOK / SMS |
| --- | --- |
| On net | 0,27 |
| Off net – domestic networks | 0,60 |
| Off net – foreign networks | 0,60 |
An SMS long number used to receive a mobile originated SMS. Message is sent to a specified url.
Number available in series 4598 5 xx
Fees (per number)
Start-up fee 1 999,-
Monthly fee 499,-
Contact cpa-support@telia.no to order.
How to get started?
If you have any questions or need help to get started, feel free to ask our support team at: cpa-support@telia.no.
CPA Agreement documents:
Existing customer?
Log in to the CPA Web to see settlements and more.