TELIA SYMPOSIUM 2020 – 5G CHANGES EVERYTHING
The third consecutive Telia Symposium is organized in collaboration with Abelia and this year's symposium will be at least as insightful and inspiring as the previous ones.
What is Telia Symposium?
Telia Symposium is a unique and different conference where customers, partners, IT and business leaders meet to share insights and experiences. In collaboration with Abelia, we seek to find more answers on how the new technologies will affect us, how we can contribute to innovation and create value for people, businesses and society through digital entrepreneurship and sustainable growth.
About Telia Symposium 2020 is: 5G Changes Everything!
How will new technology such as 5G affect the future society?
Telia is now rolling out the 5G network throughout Norway, and at this year's Symposium we are focusing on the opportunities that exist with the new technology.
5G will enable Norway to take the next big steps on the country's digitalisation journey and drive sustainable development. With 5G we will bring new ecosystems and fantastic services to people, businesses and society alike. We have invited Norwegian and International experts and top executives from public and private companies to learn more. In short, it is about competitiveness, for start-ups, tech companies, the private and public sectors and for Norway as a nation.
Agenda and program
This year's theme is covered by the following three perspectives:
In our rapidly evolving digital society, consumers are demanding more and more technology, often at a lower cost. Companies must deliver high-quality, safe and viable products in order to survive. What are the plans for some of the major consumer brands to meet these technological needs? Do we see any autonomous vehicles soon? What comes from China that challenges Nordic solutions? How does Telia look at the next few years with 5G and new, faster and more secure networks?
What do we know about today's technologies like 5G, IoT, AI and Robotics? How do small and large companies test and execute pilots to leverage the digital capabilities? Technology is exciting, and with a focus on 5G, we want to present some of the inspiring stories and plans that involve new technology.
Technology is one of the biggest drivers of societal development. New technology presents new opportunities and new challenges that we as citizens must face every day. With new technology comes challenges with changes and demands for sustainability, and both diversity and equality are becoming more important than ever. We use information and data in new ways to make better decisions, and traditional jobs are threatened by our automated everyday lives. What can we achieve with new (and old) technology, and how will this affect consumers?
There will be one main stage where these three themes are covered, and a second stage where presentations from our partners and entrepreneurs during the breaks will be held.
More information on the agenda, the different tracks and the speakers will soon be announced.
We invite you to take a well-deserved break from a busy day at work and join us in the world of technology for a day packed with information, inspiration and networking. The agenda will be presented over the next weeks, and in the meantime we hope you will save the date.
Want to know more about 5G? Read more here.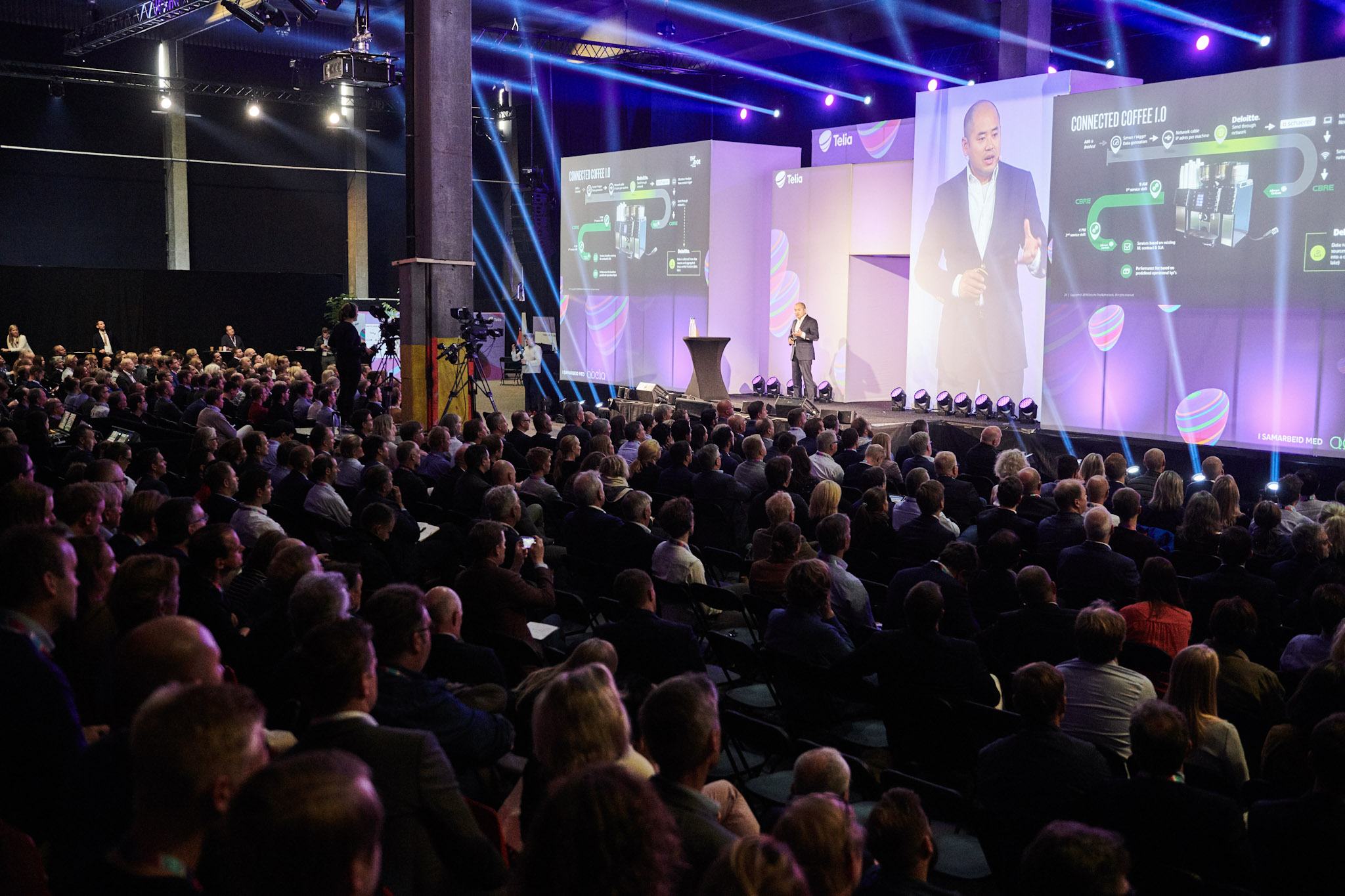 Watch movie from Telia Symposium 2018
More speakers will be announced consecutively.
DAVID ROBERTS
Keynote Speaker
Expert on Exponential Technology and Business Disruption
David Roberts is one of the world's top experts on exponential technology and business disruption. He is an award winning startup CEO with a passion to help leaders change their intentions for global good and improve the lives of a billion people in the world through technology disruption.
David is the Distinguished Faculty member at Singularity University. He served as Vice President of Singularity University and two-time Director of the Global Solutions Program. He is an M.I.T. educated Computer Scientist & Engineer and majored in Artificial Intelligence and Bio-Computer Engineering and a Harvard MBA alum. Harvard, Stanford, and Berkeley's Business schools have all written and taught case studies on David's leadership, management, and decision making.
David is Chairman of the world's leading quantum computing software company 1QBit. He is a formal adviser to Made-In-Space, responsible for manufacturing the first object in Space with a 3D printer on the International Space Station. He is currently designing passenger drones and angel advises a small group of startups led by entrepreneurs that want to positively impact a billion people.
PER LINDBERG
Senior Manager Connectivity, Product Strategy
Volvo
Per has been working in connected cars and the car electronics in the automotive industry since 1995. Driven by his passion for technology and business, he has worked for both car manufacturers and suppliers in various areas ranging from engineering, to marketing, to business development and more.
Intrigued by Volvo Cars' investment in connected cars, Per joined the company in 2012 as the Senior Business Analyst responsible for this very area at the then newly established IT Innovation Office. Since then he has been leading strategy and business development for various product areas at Consumer Enterprise Digital Department (CED) focusing on delivering innovative digital experiences that connect consumers and cars. Per now works as Senior Manager Connectivity at product strategy, where he works on setting the future direction for connectivity platforms and services.
Per sees connectivity as a key component to fulfill Volvo Cars' vision for safety, mobility and autonomous drive. He aims to find better ways of connecting cars with the cloud and other eco-systems outside of the car as we move into the future.
JENNY LINDQVIST
Vice President, Head of Northern and Central Europe
Ericsson
Jenny is responsible for Ericsson's business and operations in Northern and Central Europe, comprising seventeen markets and countries. Ericsson enables communications service providers to capture the full value of connectivity. The company's portfolio is designed to help its customers go digital, increase efficiency and find new revenue streams. Ericsson is one of the leading providers of Information and Communication Technology (ICT) to service providers, with about 40% of the world's mobile traffic carried through our networks.
Jenny is passionate about driving change - supporting communications service providers with game-changing technology and services and building an organization with a challenger mindset that can drive the digitalization of consumers and industries together with the customers. Driving innovation in 5G, Internet-of-Things and more advanced consumer services enabled by 5G are a few areas in focus to enable a fully connected world.
She has a nine-year experience from leadership positions in Ericsson, and prior to Ericsson a background in Management Consulting, in a partner role.
ANNA FELLÄNDER
Co-founder
AI Sustainability Center
Anna Felländer is the co-founder of the AI Sustainability Center, where she leads the center and manages overall operations and relations together with Elaine Weidman Grunewald.
Anna is one of Sweden's leading experts on the effects of digitalization on organizations, society, and the economy, and has published a number of reports on the subject – on topics such as e-commerce, FinTech, and the sharing economy. Anna is also a frequent speaker at Nordic tech- and political events, including Slush and the Almedalen Week. Most recently, Anna was the Chief Economist and Digital Economist & Futurist of Swedbank. Moreover, she has been working with the Swedish Government for almost ten years in various expert roles and departments.
Anna has held positions in academia, government, the digital start-up scene, and large organizations focusing on Artificial Intelligence & Ethics. She has been a Senior Advisor to the Minister of Digitalization, Affiliated Faculty at the Royal Institute of Technology, as well as a Board member at AI startups. She is an expert advisor to Sana Labs, which applies deep learning to make education personalized and more accessible.
Anna holds a Master's degree in Macroeconomics from Stockholm School of Economics.
KAREN DOLVA
CEO and co-founder
No Isolation
Karen Dolva is CEO and co-founder of No Isolation, a company that develops warm technology with the purpose of bringing people together. Their aim is to make inclusion easier, despite physical or mental challenges. She studied Computer Science and Interaction Design at the University of Oslo, before beginning her career at StartupLab Oslo. Shortly after starting there, she co-founded UX Lab, a user interaction consultancy. Karen is a board member at Norway Health Tech, and in 2016 she was awarded the Innovator of the Year 2016, E24 Leadership talents. In 2018 she was awarded the European Commission's Women Innovators: Rising Innovators prize, which recognises excellent female entrepreneurs under the age of 30. In 2019 Forbes named her one of the Top 50 women in Technology world wide. She's an avid supporter of female entrepreneurship, and strongly encourages girls to pursue careers in tech.
ATLE TIMENES
CEO and Co-founder
Wheel.Me
Atle is a successful serial entrepreneur with a significant track record in strategy formulation and company expansion initiatives. Previous ventures include founding and growing the IT-firm CRM AS to be a leading CRM player in the Nordics. Atle holds an MSc. in Management from the Norwegian Business School.
ARIF SHAFIQUE
Co-Founder and CEO
Doolittle
Arif Shafique has for over 20 years created and delivered software to the market through various roles and companies. Among these companies, he has worked for 12 years in Microsoft and helped clients digitize their business model through cloud, IoT and AI technologies. Two years ago he started a new company, Dolittle, which develops a framework for building decentralized applications. The company is currently 50% owned by the Wilhelmsen Group. "Since our many of our customers are in the maritime industry, we have created edge support for applications that need to be run on board. This allows our customers to make decisions based on data from sensors and control systems without communication with the cloud".
ØYSTEIN E. SØREIDE
CEO
Abelia
Øystein E. Søreide took up the position as CEO of Abelia on October 1st 2019. For the past three years, he has been the district director of Bydel Grorud. Prior to this, Søreide was a city council for health and social services in the municipality of Oslo (H). He has worked for several years in the industrial company O. Mustad & Søn, where he was, among other things, marketing director for the EMEA region. Søreide has also been market director in several nonprofit organizations - UNICEF Norway, CARE Norway and SOS Children's Villages. From 2002 to 2008, he was chief secretary at the political party Oslo Høyre.
ELINE OFTEDAL
Head of Innovation and Business Development
Abelia
Eline Oftedal is the Head of Innovation and Business Development in Abelia. She is a former director of the Norwegian Space Agency's trade organization and is largely aiming for the stars.
A broad background with experience from research, politics and international cooperation.
PETER BURMAN
Program Manager Mine Automation
Boliden
Born in 1964, Mr. Burman holds a master of science and M.B.A. Mr. Burman has been Project Manager in the Mine Automation Program since 2012. In 2015 he was appointed to Program manager for the whole mine automation Program. Burman was at Boliden in the period 1988-1995, then he left for the telecom business. During 17 years at Ericsson and Ascom he worked in various positions like R&D manager and Business Area Manager. Then he went back to Boliden where he is currently and he is also coordinating Boliden's contacts with selected European universities and research organizations.
10:30-11:30:
Registration
11:30-17:30:
Conference
17:30-20:00:
Food and networking
Ord. price
1490 NOK ex. VAT
Abelia-members
990 NOK ex. VAT
Startups
745 NOK ex. VAT
Lunch will be served upon arrival. Feel free to explore the Expo area.
After the sessions we hope you will join us for dinner and networking.
PICTURES FROM Telia Symposium 2018